Hey, everyone! How is your Wednesday going? Mine is pretty great, because my friend Farrah is getting in to town today for a visit!
Farrah and I are sorority sisters and lived together in college, and I'm so excited to get to see her and show her around FL!
Until then, since it's Wednesday, it's time for another edition of...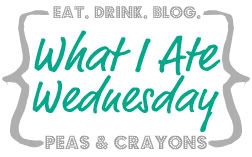 Today's post will go through some of my meals while in Chicago! I talked about the restaurants we ate at during
my weekend recap
, but let's actually look at what I ate.
After looking at the prices on the menu, Joe and I decided to split an entree and a side dish. We got lobster ravioli and broccoli and spinach. Everything was really great, but the side dish was REALLY what stole the show! It was perfectly steamed and seasoned, and we both wanted more!
Friday's Breakfast at Starbucks
While Joe slept in a little on Friday, I headed to Starbucks for some breakfast! I grabbed an egg and cheese sandwich and had an iced vanilla macchiato with my food. Everything was really, really good! I read a little and enjoyed people-watching while everyone heading to work came in for food and coffee. Fun times!
Friday's Lunch at Giordano's
It is a NECESSITY to eat some deep-dish pizza while in Chicago. Many people have their favorite places throughout the city, but we decided to meet my little Cindy at Giordano's. I personally LOVE the deep dish pizza because I love bread. Joe wasn't really a fan, but hey, at least he tried it.
Friday's Dinner at Ditka's
My phone died during dinner, so I didn't get a picture of my meal. I did get a picture of this cute little drawing the restaurant has of Mike Ditka all over the restaurant. Too cute! I ordered spaghetti and meatballs to carbo-load for the race, and everything was really good. Joe ordered the meatloaf and really raved about it. The portions were HUGE, so if you eat there, ordering an appetizer/side dish and an entree to share between two people would be more than enough.
Saturday's Brunch
This was the meal I received after the race, and I ate it as brunch (even though I also ate breakfast and lunch). It was a roasted veggie sandwich on tomato focaccia bread, and it was really yummy!
And there you have it! All the food pictures I took while in Chicago (Saturday's dinner was ballpark food at the Chicago White Sox game). I've got to say, we had some pretty great food! Chicago, thanks for the yummy visit.
Question for you: If you've been to Chicago, what's your favorite restaurant in the city? If you haven't, what city that you've been to has really great foo?