Hey everyone! How's your day going? I'm doing much better today...yesterday I was a bit "under the weather" thanks to too much wine while watching The Bachelorette on Monday. Whoops! Good thing I had nothing to do on Tuesday.
Today is going to be busy, though! I have an all-day meeting to plan for a back-to-school workshop I'm running AND Joe and I have to pack for Chicago before we fly up there on Thursday. I can't believe the ZOOMA Half Marathon is here already! It feels like just yesterday that I won the entry to the race and
started putting together my training plan
.
ANYWAY...sorry for the rambling. It's Wednesday, so that means that it's time for another edition of...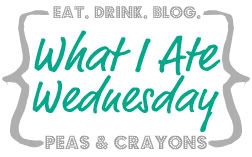 Today's WIAW post features some treats I've had over the last week. Some of them are sweet treats, and some are just meals-I-don't-have-often-that-were-quite-a-treat! So, without further ado, let's take a look!
Thanks, as always, to
Jenn of Peas and Crayons
for the WIAW party! Head on over to Jenn's blog to check out what other bloggers are eating and find out more about what What I Ate Wednesday is all about!
Sweet Frog's Watermelon Frozen Yogurt
While my mom was in town last week, we stopped by Sweet Frog for a sweet treat! They had a watermelon fro-yo that I decided to mix with Vanilla, graham crackers, chocolate sprinkles, and some chocolate bark. Yummy! If you had a Sweet Frog near you, you NEED to try this watermelon flavor! It's so so good!
On-the-beach Ice Cream Bars
Mom and I are not ones to pass up ice cream, so when the ice cream truck drove by on Friday, we had to get some ice cream bars! I got a Chipwich, and mom got a strawberry shortcake ice cream bar. It was the perfect treat for a hot day on the beach. Plus, I hadn't had a Chipwich in FOREVER, and I forgot how great they are.
Yogurt Bowls for Breakfast
I've been having yogurt bowls lately for breakfast, but they are quite a treat to me! This vanilla Greek yogurt bowl has Apple Pie Oat Clusters from NatureBox mixed in, and it's a great mix of tasty, creamy, and a little crunch. So good!
Freshly Caught-By-Us Scallops
On Monday night, I sauteed up the
scallops we caught on Sunday
, threw in some frozen shrimp, and put them over fettucini alfredo. It was a really great dinner, and it was a nice treat to be eating something actually we caught ourselves! I wish we had something like this for dinner every night!
I'd say that I've had some pretty great treats lately, both as meals and as dessert! As I start work soon, I'm going to be working on eating a cleaner diet, so the sweet treats will have to be cut out...sad day :( That's ok, though! My waistline will appreciate that :)
Question for you: What's your go-to sweet treat? What do you consider a treat at meal time?