Hey everyone! Are y'all having a good week? My week was made yesterday when I was able to register for runDisney's Princess Half Marathon 2015 weekend!!!
The website was going very, very slowly, and I thought the race would sell out before I could get in. Fortunately, about an hour after the sign-ups opened, I was able to complete my registration! Hooray!! I'm going to be doing the Glass Slipper Challenge (10K on Saturday + Half Marathon on Sunday), and
I'm so looking forward to it! Hope those of you who tried to register got in, too. The Glass Slipper Challenge was sold out only 2 hours after sign-ups opened!
Enough about runDisney race registration! It's Wednesday, so you know what that means around here...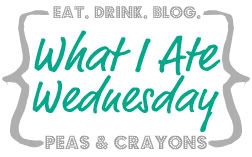 It's time for another What I Ate Wednesday!
Jenn from Peas and Crayons
created this link-up party to show blog land what other bloggers are eating. Pretty fun! Head on over to her blog to see what WIAW is all about! Thanks, as always, to
Jenn
for the link-up!
Today's edition is a peak at what I eat on a typical summer school day. These pictures are from Tuesday, so let's see what I've been eating!
Breakfast
This is a new-to-me cereal that I picked up at the store last week. I've got to say, this cereal fills me up a lot more than most cereals! It tastes like Honey Nut Cheerios and Honey Bunches of Oats mixed together. Yum!
Morning Snack
I usually have a Greek yogurt as a snack. I found this limited batch Watermelon Chobani at the store this week and was really excited to try it. It's not bad...but it really doesn't live up to the awesomeness that is watermelon. It's a nice change of pace, though, from my usual flavors.
Lunch
My go-to lunch to pack for school! My salad has tomato, cucumber, onion, orange peppers, and a whole avocado in it. I decided to go with lots of fruit on the side--some tasty fresh grapes (this bunch is seriously really good!) and some pineapple tidbits. Pretty fresh and tasty lunch!
Afternoon Snack
I bought candy for my summer school kids, and unfortunately I kept dipping my hand in the candy bag this afternoon. Hershey's Miniatures and Reese's are just too tempting (sounds like
the same thing that happened
in my last WIAW post!).
Dinner
Joe was home before me and whipped up dinner for us!! He made the beef stroganoff Hamburger Helper and added a whole can of peas to increase to healthy factor. It was very tasty, and I really enjoyed having dinner handed to me right when I walked in the door!
Workout
The reason I was home after Joe today was because I went to Bikram yoga! My friend Cacie and I are really trying to get back on our Tuesday/Thursday schedule, but I had to go to the later class today. I definitely didn't drink enough water before class and had to spend a few postures in savasana (dead body pose--the resting position). Still, glad I went and got my sweat/yoga on!
Well, there you have it! Summer school eats look a lot like what I was eating when I was teaching. I guess old habits die hard.
Have a great Wednesday!
Question for you: Do your summer eats change any from rest-of-the-year? Do you try to register for runDisney Princess weekend?