We've made to halfway through the week, people! It sort of feels like Friday for me--after getting the kids to take their test today, I'm DONE with summer school and SUMMER BREAK CAN BEGIN! To say I'm excited is a bit of an understatement :)
Enough about my excitement. Wednesday means it's time for a blogland tradition...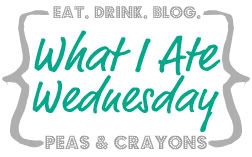 Today, we're going to take a look at some of the snacks I've been eating lately. Many of them come from
NatureBox
(referral link) (
review of my first NatureBox here
), and I've been getting a little more creative with how I've been using the snacks!
Thanks to
Jenn
for the link-up!!
PB&J Granola Yogurt Bowls
The granola goes perfectly in some vanilla Chobani Greek yogurt. It's got a good flavor and adds the perfect crunch to the yogurt. This is great for a snack, and it's also great for breakfast.
Sliced Peppers
I'll buy different colors of bell peppers, slice them up, and make little snack bags for myself. These are a good little mid-morning snack. Perfect for dipping in hummus or other spreads of your choosing!
Honey Macadamia Pretzel Pops
I requested these in this NatureBox, and man, they are just as good (and addicting!) as I remember! The snacking on these didn't last long!
Dried Fruit
I've gotten a lot of dried fruits in the past two NatureBoxes: the Tart and Tangy mix, dried pineapple (yum!!), dried pears, and dried peaches. This is a great way to get in a serving of fruit without having to worry about the fruit spoiling before you can eat it!
Fresh Watermelon
Recycled picture of a summer lunch!
I LOVE to get packages of pre-sliced watermelon spears during the summer. It's a delicious way to eat something sweet while also being healthy! The spears are also convenient to portion and slice up.

Cranberry Almond Bites
Oh MY these things are tasty!! They are perfect when I'm craving a crunchy snack, and they are very filling! I would love to be able to buy these in bulk and keep them around all the time.
Protein Bars
This shouldn't be a surprise, as these babies are a staple around our house! They're perfect after school and before the gym. Great fuel, and they're tasty, too.
Dunkin' Donuts Coffee Cake Muffin
It's dangerous living so close to a Dunkin' (and working close to another!) because I often stop for these in the afternoon. The cinnamon and sugar are the perfect afternoon pick-me-up!
Well, that's what my snacks have looked like lately! Overall, pretty healthy (minus the Dunkin' muffin) thanks to my NatureBoxes! I seriously recommend you try them out if you've been thinking about it. I feel like it's totally worth it, and you usually get a bonus snack thrown in there!
Disclaimer: I pay for a NatureBox subscription and am sharing my thoughts on their products because I love them. NatureBox did not ask me for a review, nor did they compensate me in anyway--I'm just a happy consumer!!
Question for you: What are you snacking on? Have you tried NatureBox?