Hey there, y'all! How's it going? This post is a little late today due to the fact that Joe and I watched the USA soccer game yesterday at the Daytona Cubs' baseball stadium. We stayed for the game afterward, got home late, and all I wanted to do was get to bed when we got home!
BUT it gave me the opportunity to participate in one of my favorite traditions in the blogging world!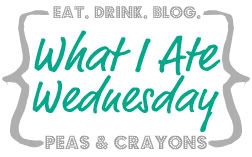 I took pictures of today's meals, so you actually get to see what I ate ON a Wednesday! Kinda sounds like what What I Ate Wednesday should be, right?! Well, without further ado, here's my meals from this Wednesday
Breakfast
Today's breakfast was a bowl of Special K Red Berries cereal. This cereal is just ok to me. I have no idea why I picked it up since I don't really like berries in my cereal! In my head, cereal should be sort of crunchy, so the texture of the berries in the cereal weirds me out a little. Oh well, at least I got in some fruit at the start of the day!
Morning Snack
I was at a training for summer school in the morning, so my snack consisted of some chocolate that was on the tables. I just counted resist the Krackel and the Special Dark!
Lunch
After the training, I went to Panera with my summer school partner to plan out the curriculum. I got the Strawberry Poppyseed and Chicken Salad, and it was just as good as always! This is my FAVORITE salad from there, so I get it just about every time I go in the summer when it's available. You need to try it if you haven't already! I had some left over, and I snapped this picture of that. Most of the blueberries and oranges are gone, but it's still going to be a tasty meal later on.
Afternoon Snack
On my way home from planning, I stopped by Dunkin' for my favorite iced coffee and the coffee cake muffin. Not the most healthy of afternoon snacks, but it was satisfying and made me happy!
Dinner
Tonight was a leftovers night our household. We needed to clean out the fridge in preparation for our trip, so Joe and I had various leftovers. In addition to some of my leftover Panera salad, I ate the salmon that was left over from our anniversary dinner on Monday night.
We ate at Vince Carter's Steakhouse and had a great time! Yes, the restaurant is owned by the former NBA player Vince Carter. He's from Daytona Beach, so that's why he opened his restaurant there. They apparently have the best burgers in town, so if you're in the area, check it out! The entrees are a bit pricy, but Joe and I both enjoyed our meals on Monday night. They have great happy hour specials on wine, too :)
There may be an evening snack to come, but you'll just have to use your imagination for what that is :)
Workout
After dinner, I went for a 3+ mile run. My Garmin didn't pick up satellite for a few minutes, but I wanted to go until I knew I'd run 3 miles for sure. It was really rewarding to feel my FitBit vibrate when I got to my 10,000 steps for the day. First time in a few days--go me!
Question for you: What was your favorite thing you ate today?