Hey, everyone! Hope your Wednesday is just wonderful. It's a chilly day here in Florida, but it's nothing a little coffee can't fix :)
My favorite travel mug from the very first Starbucks!
For the first time this year, I managed to take pictures of a full day's food! That means it's time for....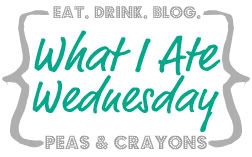 What I Ate Wednesday is a huge blogger link-up, put on by
Jenn at Peas and Crayons
, to celebrate what blogland is eating. For more information (and to check out other bloggers!), head on over to
Jenn
's site! Let's check out what I ate on Tuesday!
Breakfast
This is a new-to-me cereal that I picked up buy-one-get-one this week: Quaker Oatmeal Squares in Honey Nut. It's quite tasty! Lately, I've been slicing up a banana to go in my cereal, but that didn't happen on Tuesday.
Mid-morning Snack
Chobani has been on sale at my grocery store lately, so I picked up a bunch of new-to-me flavors. Lemon is one of those, and I really enjoy it!
Lunch
Joe and I have some roast beef we need to eat up, so we both had roast beef pitas for lunch with some mixed greens and onions included. I had some baby carrots and (unpictured) orange and green pepper slices. Quite a healthy and satisfying lunch!
Afternoon Snack
Sorry for the blurry photo
I'm back to having Nature Valley Protein Bars on my way home from work. We couldn't find any of my favorite flavor (Salted Caramel Nut), but these Peanut Butter Dark Chocolate ones are pretty good, too. They're perfect before an afternoon workout/run, and I completed a 2-mile run (had to get to the chiropractor!) when I got home.
Dinner
When shopping this weekend, Joe and I saw these salmon pinwheels with seafood filling while we were looking for fresh meat to purchase. I was intrigued, so we bought a pack of two to bake. I made them for dinner on Tuesday with garlic mashed potatoes and green beans on the side, and MAN were they good! These are definitely going to be something we get for dinner at least once a month, and I may even try to make some of my own (that should be interesting...). If I do, I'll be sure to share the recipe ;)

Question for you: What's the best unplanned item you've picked up from the grocery store lately?
These salmon pinwheels are definitely it for me, with the Oatmeal Squares cereal being a close second :)