Guys, this week has thrown me off! I'm working on curriculum maps all week with the other math coaches, and that's gotten my routine all out of whack. I normally try to write my blog posts the night before, but that just hasn't been happening. Just know that this week will be a week of late posts!
It is Wednesday, so it's time for another edition of...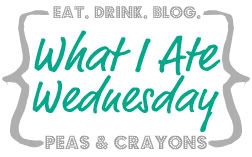 Thanks to
Jenn
for hosting the link-up, as always! Check out
her blog
for more info about WIAW and to see what other bloggers are eating.
One of the benefits of working on curriculum maps this week is being able to GO OUT FOR LUNCH! Working in schools means either getting lunch in the cafeteria or bringing your own. There is no option to go out--there's just not time! Those of you who have the ability to do that every day probably don't know how good you have it. So, here's my meals from Tuesday where I was able to go out for lunch!
Breakfast
I had a batch of
Cake Batter Overnight Oats
(
Erica's
recipe!). Tasty little breakfast to start the day! Another bonus about curriculum writing: a later start :) I had plenty of time to enjoy my food and play with the puppy.
Morning Snack
I found the Blood Orange Chobani at the grocery store this week, and I was so excited! Perfect snack to tie me over until lunch.




Lunch

For our lunch out(!!!), we decided to go to Panera. I ordered the Lemon Chicken Orzo soup and the Tomato & Mozzarella Panini. The panini is one of my favorites, but this was the first time trying this soup. It was DELICIOUS!

I really enjoyed the time eating out at Panera--good food, good company, AND it was nice to get away from the office after staring at a computer all day.


Afternoon Snack
After work and before heading to yoga, I finished off the Santa Fe Corn Stix from my
NatureBox
. I was still a little hungry afterward, so I had a few Veggie Straws as well.
Dinner
Joe made dinner while I was at yoga (love hot yoga, but I get done so late), and I came home to some tasty tacos!! Topped with tomatoes, onions, salsa, and cheese with some mixed vegetables on the side.

Evening Snack
I stayed up a little later than expected making a casserole, so I snacked on some Ritz crackers while crushing them up.
Workout
I made my return to bikram yoga yesterday! Let me tell you, I can TELL that I haven't been in 2.5 weeks. I'm glad I got back in there, and I was able to make some improvements on some of the postures. Good times!
Question for you: Do you go out for lunch during work? Teachers out there: isn't it so fun when you're actually able to go out?!?!