Whoa there! It's been quite a while since I've posted to this little blog of mine. Life has just gotten in the way, but I think I've gotten it under control for the rest of the week!
Well, it's Wednesday, and I managed to take pictures of my food all day yesterday. You know what that means...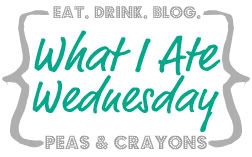 Thanks to
Jenn from Peas and Crayons
for hosting the link-up each week. Head over to her blog to check out what the rest of blog land is eating!
Breakfast
I ate the usual bowl of Honey Nut Cheerios this morning. Have y'all seen their new commercial? It made me laugh out the loud the first time I saw it!
I may or may not have danced around the living room, as well.
Morning Snack
I decided to try out some Garden Tomato Almonds from Nature Box. I received these as part of my "swag bag" from the RnR VB Half Marathon, and they are pretty good! I expected a little more flavor, but at least it wasn't overpowering!
I have some coffee with my snack, too. Not the best taste combination, but I needed the caffeine at that time.
Lunch
Pretty typical school day lunch for me. My salad featured mixed greens, avocado, tomato, onion, and cucumber. I had some baby carrots, pineapple, and Chobani Strawberry Banana on the side. Pretty fresh and tasty lunch!
Afternoon Snack
Also a normal for me: Nature Valley Protein Bar. I found the Salted Caramel flavor again recently, and I'm really enjoying these each day!
Dinner
On the way home, Joe and I decided to pick up a pizza for dinner. We had a coupon for Papa John's and went for one of the speciality pizzas. We usually just get pepperoni (sometimes with sausage and onion), so we were at a loss as to which interesting flavor to try! After some debate, we settled on the Buffalo Chicken Pizza. Joe loved it, and I thought it was just ok. I want to taste the cheese on a pizza, and you can't really do that with all the other strong flavors. At least I got to dip my crust in garlic sauce :)
After dinner, I went for a 30 minute fartlek run. Pizza also may not be the best food to eat before a run, but I did very well for my first run after Half #2! More on that later in the week :)
Question for you: Do you ever order speciality pizzas? What's your favorite pizza topping?