Hey everyone! I've got a late What I Ate Wednesday post for y'all today!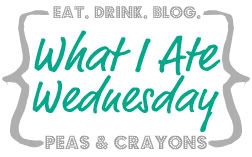 Thank you to
Jenn
for getting this whole WIAW party started :) And congrats to her on her newborn baby!
Today's WIAW focuses around things I ate this weekend! My friend Kristie (the one I visited in Seattle) and her husband Joe came to visit Joe (my Joe, as we refer to our husbands when they're both around) and me, and we had a great time with LOTS of good food!
Breakfast both days this weekend was steel-cut oats with some chocolate chips in it! Yummy! Everyone else passed on breakfast, so I enjoyed my tasty bowls before everyone else got up.
For the Virginia Tech game, we decided to have our own little tailgate and grill out!
We made some yummy burgers, simply seasoned with a Steakhouse Seasoning Grinder, with macaroni salad and watermelon on the side! The guys decided to have brats wrapped in bacon, and us girls got a good laugh out of how excited they were over this creation.
After the Hokie win (thank goodness), we went to the Wine Walk in New Smyrna Beach. After plenty of delicious beverages, including some homemade sangria and frozen peach bellinis, we went to dinner at
That's Amore
.
We all shared the mozzarella sticks and calamari, which were awesome! I ordered the Gnocchi alla Sorrentina with the pesto sauce for my main course.
We all raved about our meals, so we will definitely return there!
Lunch on Sunday was leftovers from the night before. They were just as good the second time around!
For dinner, we ate at WingHouse. Apparently, they haven't found many good wing places in Seattle, so Joe decided we needed to get them some wings! I ate my usual wrap while we enjoyed watching football for the rest of the evening.
And there you have it! My food this weekend. I've gotta say, it was filled with some yummy meals! Great company too :)
Question for you: What's your favorite thing you ate this weekend?