Good morning, everyone! When I got up this morning, I was planning to post my 39-week pregnancy update. That is, until I checked my e-mail and saw that I am now registered for my first major race of 2015!
I was selected in the lottery to register for the Peachtree Road Race in Atlanta on July 4th, 2015!!!
If you aren't familiar with the race, this is a huge tradition in Atlanta! It's a 10K race through the city and is always run on July 4th. Their registration cap for the even is 65,000 runners, so this is a big deal!
I got so, so, SO excited about this for multiple reasons, and I just HAD to dedicate a blog post to it. Here's why:
I've never won a race lottery before.
Now, I've only entered two others before this one: the lottery for the Peachtree Road Race 2014 and for the NYC Marathon in 2014. I wasn't too bummed about the NYC Marathon, especially considering I would have been about 4.5 months pregnant while running my first marathon had I done it this year. But the Peachtree Road Race is special to me (see below), so I was upset I lost last year. I had low expectations this year, but I'm SO EXCITED to win this race lottery this year and be one of the 65,000 runners this year!
I've been itching to sign up for races for 2015!!
Seeing other bloggers and friends on social media talking about their races so far this year has had me jealous. I had to stop running mid-January because running just wasn't comfortable anymore. I've since been eyeing races that I wanted to sign up for but haven't because of the uncertainty around Baby Fish's arrival (when will it happen, will it be via C-section, when can I run again, etc.). So, I'm so excited that I won this race lottery and now have my first major race of 2015 on the calendar!
We'll make a racecation out of it!
We have lots of friends that live in Atlanta, so running this race will definitely turn in to a racecation! Not only that, but it'll also be Baby Fish's first race-cation! Plus, I already checked, and our beloved Atlanta Braves have home games that whole weekend. Score!
The race will fit perfectly into my marathon training plan.
I still haven't signed up yet, but if I run the
Richmond Marathon
this year
as I plan to
, this race distance meets exactly what I'll need to run for a long run that week. Perfect!!
This is my grandfather's favorite race.
My grandfather (mom's dad) has always been a runner and loves to tell us stories about the races he's done. The reason I even know about the Peachtree Road Race is because my grandfather has run it multiple times and speaks so highly of it.
When I started running, it's been so special to get to share running stories with him and have that hobby in common. The picture above was from when we ran together this past Thanksgiving. I can't wait to tell him I'm doing this race this year, and hopefully he'll be able to come watch!
Needless to say, I'm a bit excited about getting in to this race through the lottery!! A 10K race on July 4th will be the perfect way to get back in to my training postpartum and hopefully lead me to work back up to half marathon (and maybe marathon?!) shape!
I'm linking up with
Erika
,
April
, and
Patty
for Tuesday's on the Run! Their theme this week is Race Signs (or anything else running related), so go check out their posts (and many others!) for some laughs.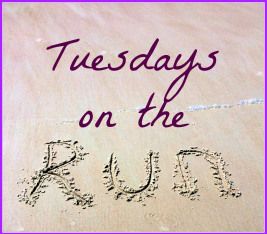 Question for you: What is one race that you've always wanted to run? Have you done it, or is it still on your race bucket list?