What?! A second post in one day?! Yeah, not a very frequent occurrence, but I found a fun link-up and wanted to participate. I thought about saving this post for Thursday, but it wouldn't fit in with the name of the link-up.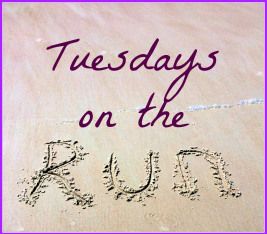 Tuesdays on the Run
is a weekly link-up hosted by
Erika
,
Patty
, and
April
featuring posts centered around a running-related topic (or any running-related post). This week's topic is Show Us Your Bling!
Let's be real: one of my favorite things about running is earning the bling at the end of the race! So when I saw this topic, I thought this would be a great way to look back at my 2014 races while showing off the cool medals that I love. This topic particularly called me to after I decorated a spare Christmas tree with my running medals this weekend.
Usually, my medals are just sprawled out on my desk, so it's nice to have them displayed right now. Joe even made a comment that he really liked the medal tree! I'm working on crafting a more permanent medal display, and I will share all about that when it happens!
All right, time to check out my 2014 race medals:
Now, let's give each of them a superlative!
Favorite Medal of 2014-Space Coast Half Marathon
Not only did I really enjoy this race, but I love this medal because of how pretty it is, its size, and the meaning! The medal commemorates the Challenger shuttle that exploded in the early 90's. Each star represents a life lost in that disaster. Very cool to remember those men and women that way!

Most Accomplished Medal of 2014-Lake Minneola Half Marathon
My current half marathon PR occurred while earning this medal. I had a really great race, particularly since I hadn't really trained for this race. I also stuck with my race strategy and met my A goal for the race. Great accomplishment!
Most Memorable Medal of 2014-runDisney's Wine and Dine Half Marathon
This is my only race medal that is a spinner, AND this was my first race running in the rain. Ohhh the memories!
Medal I Had to Travel the Furthest to Earn-ZOOMA Chicago Half Marathon
I
won an entry to this race
, so it was fun to make a race-cation out of it and bring Joe along. Considering most of my races this year were in Florida, this is easily the furthest I had to travel!

Medal Earned Closest to Home-Daytona Beach Half Marathon
Considering we ran through my neighborhood during this race, this was definitely the one that was earned closest to home!
Prettiest Medal of 2014-runDisney Princess Half Marathon
The Princess Half Marathon HAD to have the prettiest medal. How could it not?!?
Hardest Medal to Earn in 2014-Lighthouse Loop Half Marathon
This was my first race knowing I was pregnant, and then my IT Band decided it wanted to be a pain again. I seriously considered quitting this race, but I finished and I'm glad I did!

Most Theme-fitting Race Medal of 2014-Suck It Up Buttercup 10K
I loved that this race medal was a buttercup, which fell right in the line with the name of the race. I love this race shirt, too!
Most Unique Race Medal of 2014-Palmer Paint the Towne 5K
I don't normally like getting medals for 5Ks (I just feel like I didn't earn it...no offense to anyone who does!), but this paintbrush "medal" was pretty unique and fit right in with the name of the race. I loved it!
Least Favorite Medal of 2014-
Houligan's Ain't Patty's Day 5K
Again, I personally don't like getting medals after 5Ks, and this medal really isn't anything special-looking. It was quite a fun race, but I don't feel as though I "earned" a medal for running this 5K race.
That was fun :) Thanks to
Erika
,
Patty
, and
April
for the fun link-up! I just might have to make this a regular thing.
Question for you: If you're a runner, what's your favorite race medal and why? If you're not a runner, can you see why runners are obsessed with the medals? :)