Oh, boy! I've been back to school for one day and I'm already tired! Yesterday was the first day of preplanning, and after I got home, worked out, and ate dinner, I fell asleep on the couch for an hour. Meetings and getting my classroom together are exhausting!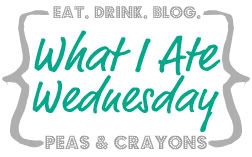 It's Wednesday, which means it's time for another round of What I Ate Wednesday. Today, I'm going to share with you some of the exciting eats from my weekend in Northern VA for Valerie's wedding.
Thursday
After flying in and meeting up with Krista and Valerie, we ran some wedding errands in the afternoon and met up with two of the other bridesmaids Brynn and Stephanie for dinner. We ate at
Gordon Biersch
, a restaurant and brew house in Tyson's Corner.
I ordered the California Burger (cheese, tomato, lettuce, and avocado) with a side of fruit. So good!
Friday
We had a nail appointment early on Friday, so we stopped by Einstein's for some breakfast.
I had a Dutch Apple bagel with honey butter and a Blackberry Lemonade to drink. Y'all, you NEED to go get some blackberry lemonade. It was insanely good!
After getting our nails done, we went over to Valerie's mom's house for Panera. I went with my usual Strawberry Poppyseed Chicken salad, and it didn't disappoint. We also had some yummy desserts, including a chocolate cupcake with cream cheese in the middle. It was amazing! I have the recipe, and I'll share it with y'all soon :)
We got ready for the rehearsal and the rehearsal dinner, which was held at Maggiano's. I was excited for this dinner because Joe and I looked to have ours there but couldn't quite make it work.
All of the food was tasty, especially the bruschetta and ravioli served as an appetizer. As always, dessert was a crowd pleaser.
In addition to the chocolate cake and tiramisu, we had the groom's cake.
Valerie had the baker make a bar-themed cake, featuring coasters of Nick's favorite teams. What a cute idea, and the cake was delicious! We had a very fun Friday in preparation for the wedding on Saturday.
Brynn, Krista, and me after the dinner
Saturday
We had another early morning of appointments, this time for hair! Valerie's step-mom brought the hair dressers to us, as well as a delicious spread of breakfast foods.
Most of us made Greek yogurt bowls, which was the perfect way to start the day.
Bride getting her hair done and reading a note from her hubby-to-be!
We all got our hair done in the same way, a low bun with a braid on one side. The hair dressers did a wonderful job! Krista's husband Josh delivered a tray of Subway sandwiches for lunch, then it was time to get ready for the wedding.
Brynn, me, and Stephanie
Pre-wedding!
The bride looked amazing, the ceremony was beautiful, and you could tell just how in love Valerie and Nick are!
Dinner at the reception was a choice of chicken or beef, and I went with chicken.
I believe the dish was chicken napa, and it was very flavorful. The sides were equally delicious! Great wedding food. Then, it was time for some dancing and the all-important wedding cake!
The reception was lots of fun, and before I knew it, Valerie and Nick were off to their honeymoon!
Congratulations, Valerie and Nick! I'm so honored to be involved in your wedding day :)
Question for you: What's your favorite wedding tradition?
I'm going to go with cake :) But I also love looking at the groom when he first sees the bride. Nick was just precious when he saw Valerie! He could hardly contain his excitement.