In all the school craziness this week, I actually remembered to photograph a day of food this week! You know what that means...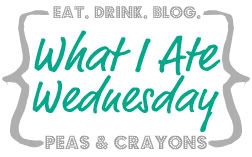 It's What I Ate Wednesday! I'm going to share Tuesday's eats with you today, and you'll notice I'm back to the usual types of food I normal eat during the school year! As always, thanks to
Jenn
for hosting the link-up.
Breakfast
My usual bowl of cereal. Honey Nut Cheerios were BOGO this week, so that's what I went with!
Morning Snack
I ate some dry roasted almonds. Mmmm, those things are delicious!
Lunch
I snapped a picture of my lunch in the morning while I packed it so I'd remember! I had a salad with spinach, tomato, cucumber, onion, and some leftover spaghetti squash. I also had a Chobani Raspberry on the side (great flavor!), some carrots, and an apple.
Afternoon Snack

I ate two fun-sized Hershey's Cookies 'n Cream bars I had in my classroom, as well as my usual Nature Valley Protein Bar (Salted Caramel Nut).
Pre-Dinner Snack
I was really hungry before cooking dinner, so I had a Fruity Pebbles Treat! Think Rice Krispies Treat, but with Fruit Pebbles!
Dinner
Baked Chicken in Italian dressing, steamed broccoli, and brown rice. Easy, tasty, and filling dinner! Dessert was a chocolate chip cookie.
Question for you: What do you eat when you're looking for a treat during the day?
I had quite a few treats on Tuesday, but my go-to is usually a chocolate chip cookie or some sort of chocolate.