How's it going, y'all? We are getting ready to head to the airport for our trip to DC! Joe, his sister Katherine, his mom Mimi, and I are heading up there for five days. The goal was to see the cherry blossoms, but it appears we will miss them due to the cold winter! It's ok, though, because we have a lot of fun things planned, as well as lots of family on both sides to see. It'll be fun!
Before I head out, I wanted to participate in the What I Ate Wednesday blogger party.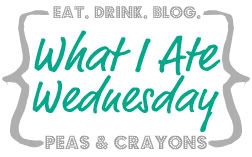 Today, we will see what I ate on Tuesday while hanging around Gainesville. It was a chill day, but I was really looking to get in my 7-9 freggie servings for the
Spring Bootie Buster Challenge
. It's hard for me to do when I'm away from home, but let's see how I did this time! As always, thanks to
Jenn
for the WIAW link up. Head over to her blog
Peas and Crayons
(with a guest post today from
Heather @ Kiss My Broccoli
) for more WIAW posts!
Breakfast
I got the freggies going early with a sliced apple on the side of my maple and brown sugar instant oatmeal. I'd never had this flavor before, and it was a good one! I also drank a whole water bottle (16 ounces) within an hour of waking up as a bonus challenge for SBBC this week!
Morning Snack
I needed some coffee (serious caffeine addict here, must work on this!), so I headed to Starbucks for a vanilla macchiato. If you haven't tried it, it's a winner! I also got a cheese danish to snack on, since everything else is off limits for Lent. It was really good, so I didn't miss the lemon pound cake at all!
Lunch
I picked Joe up from shadowing a chiropractor, and we went to one of Gainesville's hidden treasures, Mac's Drive-In. It's a cash only place, and Joe and I only had a $10 bill between the two of us. I let him get a side and a drink, while I got a BLT sandwich and ate a bunch of baby carrots I had in the fridge at Katherine's house. Very yummy little lunch!
Afternoon Snack
Lunch didn't hold me over too long, so I got a 100-calorie bag of kettle corn and sliced half a green pepper for a snack. Yummy!
Dinner
Joe and I went to dinner with his dad and stepmom at Applebee's! I didn't get any pictures, but I had some spinach and artichoke dip as an appetizer (so good!) and then their Fiesta Chicken Chopped Salad. I got it without the spicy dressing and used the strawberry vinaigrette instead. It was a really good salad, and I had just enough left over for a side salad with today's lunch!
Workout
Had to use the photo editor on my phone, sorry for the messed-up looking picture!
After dinner,
Katherine and I went on a 2.6 mile run around her neighborhood. I did about 10 minutes of stretching when we got back. It was nice to have a running buddy for once!
Freggie Count
: I did get in my 7 servings! Woohoo! It really helped that we brought some fruits and veggies from home, as well as ordering a salad for dinner. Still doable while on the road!
Question for you: How do you stick to eating healthy while out of your normal routine?