As I mentioned yesterday, I really don't have much going on during the day this week. That gave me plenty of time to curl up on the lounger and read, read, read to my heart's content!
I've already finished
Gone Girl
by Gillian Flynn, and now I'm starting
Paper Covers Rock
, a young adult novel by Jenny Hubbard. One of the librarians at my school recommended it to me after I told her I read and enjoyed
Thirteen Reasons Why
. I plan on posting reviews of both of these novels, but I'm going to space them out seeing as I just posted a book review on Saturday.
Ok, enough about my summer reading! It's Wednesday, which means it's time for another What I Ate Wednesday. Thank you to
Jen
for hosting the link-up each and every week!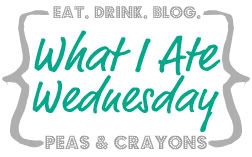 Let's see what I ate on Tuesday in between all the reading I've been doing!
Breakfast
I made a bowl of steel-cut oats with some cinnamon mixed in. I made this batch with water and it was rather runny. Next time, I'll make sure to use milk!
Morning Snack
Before I went to the store to pick up some groceries, I got pretty hungry. I know not to go to the store hungry, so I had a Blood Orange Chobani to tie me over to lunch. Great flavor!!
Lunch
I had my usual salad: spinach, tomato, onion, cucumber, orange peppers, and red peppers topped with a whole avocado! I had some very fresh watermelon and veggie straws alongside. Quite a delicious lunch!
Afternoon Snack
I had two brownies topped with pink lemonade frosting to satisfy my sweet tooth. I like to bake when I get bored, which happened on Friday. The brownies are almost gone, which is a good or a bad thing, depending on how you look at it :)
Dinner
Tonight was leftovers night in our house. Joe ate the last of the homemade meat sauce we had last week, and I had some leftover BBQ left over from an event Joe ran on Saturday. I made some green beans for us both, and I finished off some leftover mashed potatoes and mixed veggies from dinner on Saturday.
Post-run "Snack"
I went on a 3-mile run about an hour after dinner, and I recovered with my usual FitMixer Amino drink in Fruit Punch flavor. It's very tasty, and I really do feel like it helps my muscles recover after a tough workout.
Post-run "Snack" Snack
I got hungry a little later on so I had some more veggie straws. I love them!
Question for you: What's your favorite summery thing to eat?
Watermelon is at the top of my list!