Hey there! Sorry I was MIA yesterday. Joe and I took an impromptu trip to St. Augustine to see our friends Andrew and Jacqui for the day! I didn't take any pictures, but we had a great time hanging out with them, their son Danny (and baby #2 on the way!!), and Jacqui's parents for a while.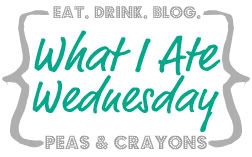 To recap my time in NYC and all the bachelorette fun, I decided to approach it from a What-I-Ate angle! I took pictures of many of our delicious eats, so I wanted to share those with you, as well as fill you in on different things we did.
Thanks, as always, to
Jenn
for hosting the WIAW party! Check out her blog if you want to see what it's all about!
Friday
I caught an early morning flight to DC, met up with the other girls, then rode in the car up to New York City. I knew that I would need some snacks along the way, so I packed some healthy eats to hold me over.
Airplane snack
In-the-car snack later on
We ate lunch at Panera before hitting the road, and I enjoyed the Strawberry Chicken Poppyseed salad they have during the summer. This salad is FANTASTIC, and it really hit the spot!
From left to right: Valerie, Mary, me, Stephanie, and Krista
We hit the road, and Valerie had no idea where we were going! We convinced her she needed a passport, so we kept joking that we were going camping in Canada and wouldn't have running water. When the NYC skyline appeared right around dinner time, we asked Valerie if she'd want to stop for dinner in the city. She said yes, and after sitting in traffic at the Lincoln Tunnel, we pulled up to our hotel. She was so surprised and excited!
After unloading, we walked to our dinner destination for the evening:
Blockheads
(Midtown West location). We had delicious drinks and great food! The atmosphere at the place was awesome, too! It was outdoors in a little square between some buildings.
My drink, the Frozen Flag...DELICIOUS!
I ordered the Chicken Fajita Sticky Rice Bowl, which was really, really good. After dinner, we went back to the hotel for gifts, Bachelorette-themed games, and some rest.
Saturday
We woke up semi-early because we had a jam-packed schedule. Our first time:
Alice's Tea Cup
for brunch! This place was absolutely adorable! Their menu featured a wide array of teas, freshly baked scones, and some fancy breakfast items. We, of course, ordered two pots of tea to try first.
Oh, and a giant mug of coffee :)
I ordered the Mixed Berry Crepes and a Cinnamon Chocolate Chip Scone. Both items were amazing!
The restaurant itself was so cute, the staff was incredibly friendly and helpful, and we all loved our food. Next time I go back to NYC, Alice's Tea Cup is definitely on my list of places to eat again!
After brunch, we began our walking/subway tour of the city. We started by walking from Alice's Tea Cup to Central Park. Our other destinations included FAO Schwartz, Rockefeller Center, taking the Staten Island Ferry, and the 9/11 Memorial at the World Trade Center (which included seeing the Freedom Tower).
It was then time to get ready for the evening! We decided on a cowgirl theme since the main reason we went to New York was to take Valerie to Coyote Ugly. We all got dressed up in our cowboy hats and boots, as well as some adorable sashes that one of the bridesmaid's made for us!
First stop was dinner. We ate at
Delicatessen
in SoHo. They had a wide variety of food options, but we all saw the MacBar section of the menu and ordered from it! They had a ton of different macaroni and cheese variations, and I went with the Magherita Mac.
It was so good, and so filling! The restaurant had such a "hip" vibe to it, and we really enjoyed sitting on the patio for our meal. We had great service and we all enjoyed our meal.
The evening was filled with dancing at Coyote Ugly then laughing at a Comedy Club late in the evening. We all enjoyed our time out with Valerie, who certainly enjoyed dancing on the bar at Coyote Ugly!
Sunday
We ate a quick hotel breakfast, then packed up the room and drove back to DC (where Valerie and some of the other bridesmaids live). On our way home, we stopped at
Tony Luke's
in Philly for a cheesesteak for lunch. We found the place from a Google search, and I think we all enjoyed our meal.
Overall, a very fun Bachelorette party weekend for Valerie with LOTS of good eats! I'm looking forward to her wedding in about 2.5 weeks :)
Question for you: Any places that I have to go eat next time I'm in NYC?