So, you may have noticed that I haven't been doing What I Ate Wednesday lately. I've fully intended to each week, but I just haven't taken pictures of a full day's worth of food! I managed to do so yesterday, so you know what that means...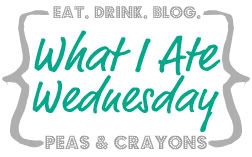 I get to join in on the WIAW fun! Thank you to
Jen
for hosting the link-up every week!
Tuesday was a cloudy, rainy day for me. I usually lack motivation to do anything on days like that, which leads to a lot of sitting on the couch watching TV. Let's see what my meals look like:
Breakfast
I found a new cereal at the store this week: Honey Crunch Medley. It's got honey nut Cheerios, some oat flakes, and crunchy almond clusters. It's quite tasty!
Lunch
I'd say that my lunch was very, very healthy! I had a spinach salad topped with avocado, tomato, onion, green peppers, and cucumbers. I also enjoyed a red delicious apple and some pretzels dipped in roasted garlic hummus. Yum!
I also had a Special K Pastry Crisp for dessert. I saw them on Erica's blog and had to pick them up! They are a Cookies & Cream flavor (my favorite!!), and they are pretty tasty.


Afternoon Snack #1



Afternoon Snack #2



Dinner



Evening "Snack"


Evening Snack #2
I was pretty hungry before bed, so I made a small bag of popcorn to satisfy my stomach. Pretty tasty!
The entire day, I just wanted to keep eating and eating. Once I made dinner and got up for a run, I haven't been inclined to snack the entire evening. Hmmm...looks like I need to work on eating out of boredom vs. eating because I'm hungry! With the summer break, I think I'll have a good amount of time to get to work on that :)
Question for you: Do you notice that you snack a lot or eat poorly when just sitting in front of the TV all day?